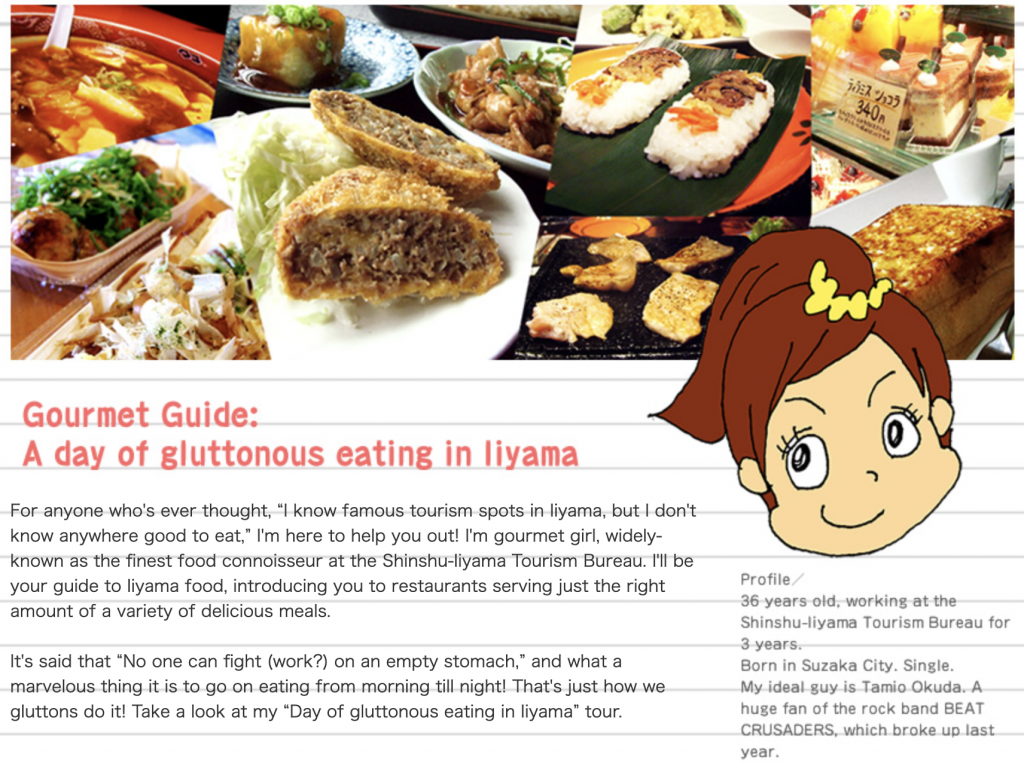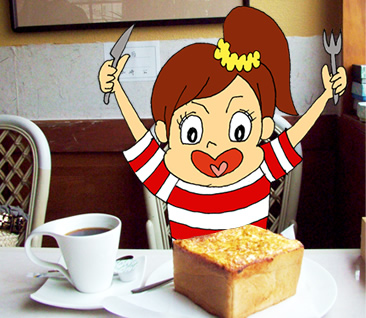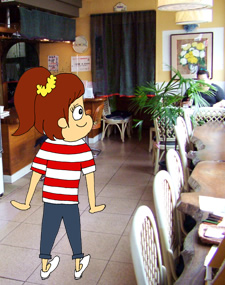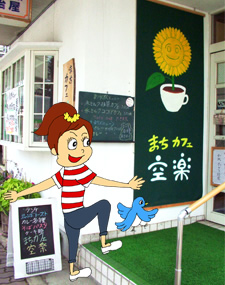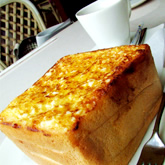 Waiting with Gourmet Girl at a new coffee shop, Machi-café Kuraku, which opened in 2010. This cafe occupies renovated space previously used by the Meijiya coffee shop, a well-known landmark in Iiyama for 30 years. The shop is decorated with Uchiyama paper, a special product of Iiyama, as well as photographs and paintings from local amateur artists. With regulars dropping by all the time, the cafe has a great "at-home" atmosphere.
Gourmet Girl recommends Jumbo Toast (500Yen), which faithfully reproduces one of Meijiya's previous specialties. The Jumbo Toast, thick slices of carefully toasted bread flavored with mayonnaise, also comes with an egg salad filling. The sweet taste of the bread blends perfectly with the salty filling, making for a tasty snack you can't stop eating. Notches in the bread also allow the flavor to seep through to the middle, making the toast particularly delicious! So of course, Gourmet Girl gobbled it down quickly. Next, we're hurrying off to lunch!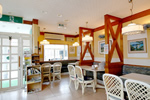 Machi-cafe Kuraku
1207,Iiyama, Iiyama city
TEL: 0269-62-4511
OPEN: 10:00am~4:00pm
CLOSED: Thursday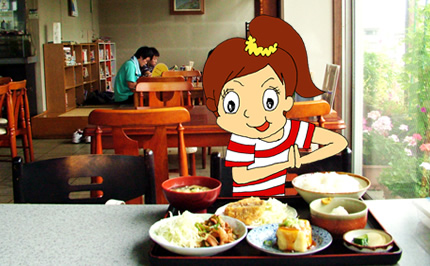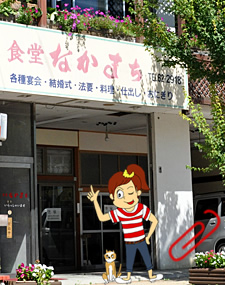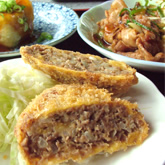 Nakamachi-shokudo is well-known for its large meals and low prices. I was amazed at the extensive menu and range of inexpensive dishes, and even more shocked at the amount of food that arrived at my table. The special of the day was a set including pork ribs sautéed with ginger, a fried cake of minced meat, fried tofu with starchy sauce, natto (fermented soybeans) with grated yam, pickled veggies, rice, and miso soup…for just 650 yen!
The restaurant offers self-service tea and coffee, and attracts everyone from students to office workers, craftsmen, young couples, and families. Although the restaurant is fairly large, it can get crowded at lunch and dinnertimes. Still, the delicious taste and large volume of the food is worth the wait!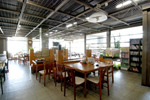 Nakamachi-shokudo
Shinbutsu Washimori Bld., 2959, Iiyama, Iiyama city
TEL: 0269-62-2918
OPEN: 11:00am~2:00pm and 5:00am~10:00pm
CLOSED: Tuesday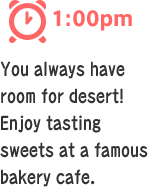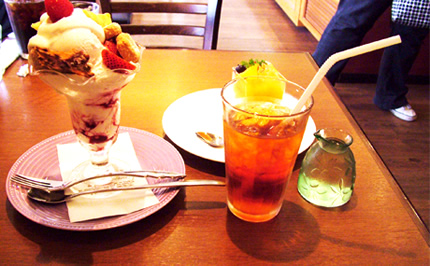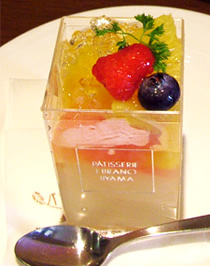 Located along Chuo-bashi street, the famous bakery Patisserie Hirano has always attracted a steady stream of customers. Hirano pastries are made from local ingredients, and the store showcase is filled with seasonal cakes and freshly-made sweets. Baked confections, gelato, and a wide variety of other treats are also available, and – best of all – at moderate prices!
A café in one corner of the shop offers parfaits and drinks, as well as Hirano cakes. Gourmet Girl digs into a cheese cake parfait, strawberry cheese gelato with a cheese cake perched on top (650yen). With rich flavors, this extravagant parfait is also a refreshing treat. Despite a heavy lunch, Gourmet Girl finishes off the parfait without putting down the spoon once.
You're having another one!?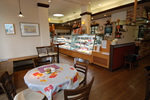 Patisserie Hirano
2228, Chuo-bashi st., Iiyama city
TEL: 0269-62-2316
OPEN: 9:00am~7:00pm (Last Order – 6:30pm)
CLOSED: Wednesday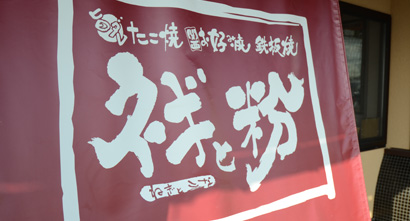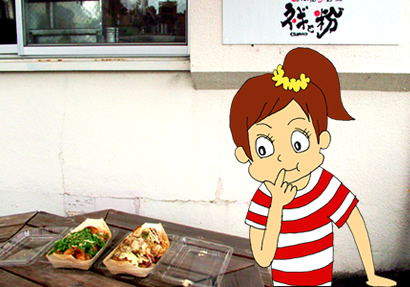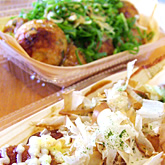 Negi-to-kona, close to Iiyama Station, specializes in takoyaki (octopus dumplings) and okonomiyaki (fried pancakes made from batter, veggies, meat, and other ingredients). The proprietor, who originally trained in Kyoto, is said to be very particular about the ingredients used in his dishes. In particular, it's said that he uses only kujo-negi (Kujo leeks), ordering them daily from Kyoto. The shop also uses an original blend of domestically produced wheat flour, while the octopus comes from Hokkaido.
Gourmet Girl ordered two dishes, the popular "Takoyaki with onion and sesame sauce" and "Takoyaki with mustard and mayonnaise." The freshly-baked, mildly spicy taste is superb! The restaurant allows take-out, and even ordered to go the food retains its delicious flavor.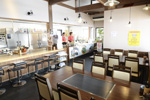 Negi-to-kona
14-11, Minami-machi, Iiyama city
TEL: 0269-62-2741
OPEN: 10:00am~8:00pm
CLOSED: Thursday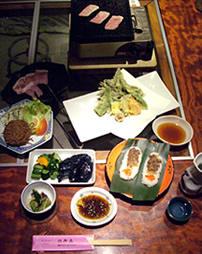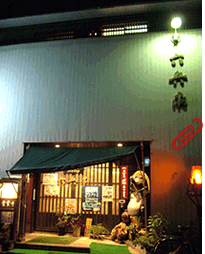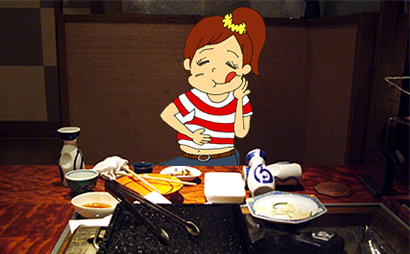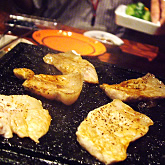 Despite its simple appearance, Rokubei's atmosphere is similar to that of a classic Japanese-style restaurant. With everything from local specialty dishes like Tomikura-soba and Sasazushi, to a-la-carte dishes made with local foods like Miyuki pork, edible wild plants, and mushrooms, and international fusion dishes, you'll be happy no matter what you order. The restaurant serves various drinks, specializing in alcohol brewed in Iiyama and Nagano prefecture. Gourmet Girl's already on her third bottle!
A season-limited lunch set also comes highly recommended.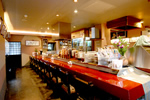 Rokubei
32-5, Minami-ho, Iiyama city
TEL: 0269-62-4359
OPEN: 11:30am~2:00pm and 5:00pm~9:30pm
CLOSED: Twice a month (irregular )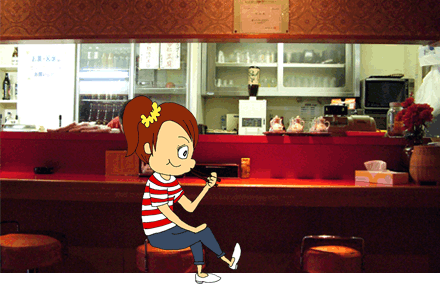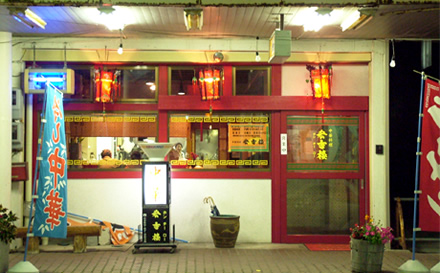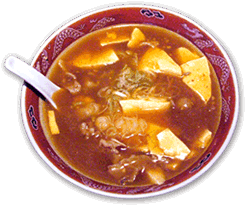 Gourmet Girl frequently stops for a meal at Honchiro, which serves traditional Chinese dishes. The tofu-men (tofu and noodles) (750 yen) is recommended. Don't make light of tofu!
The firm tofu sold at the local shop is tough enough to boil without crumbling, and works well in spicy soup. The chunky garlic, wrapped in noodles, adds a delicious accent. The soup is filling, but so tasty that it'll be gone before you know it.
Open until 10:30pm, you can enjoy a leisurely final meal.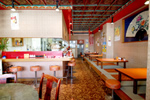 Honchiro
1204-2, Hon-machi, Iiyama city
TEL: 0269-67-265
OPEN: 11:00am~2:00pm (last order), 5:00pm~10:30pm
CLOSED: Sunday, Monday after a national holiday