IIYAMA STATION
ABOUT IIYAMA STATION
Accompanying the opening of the Hokuriku Shinkansen, the Iiyama Station for the conventional rail lines was relocated, and a new "Iiyama Station" was born.
With a universal design for everyone's ease of use, Iiyama Station Tourist Information Center, the entrance for traveling around, also has a tourist information center, a rest area and waiting room, bathrooms, and a tea room (Panorama Terrace).
Within Iiyama Station are Shin-etsu Shizenkyo Activity Center, a convenience store, a soba restaurant, and a rent-a-car dealer, making the station highly convenient for travelers.
Also equipped with a transport hub with buses and taxis for tourists, parking lots, and rotaries, it also serves as an entrance to Shin-etsu Shizenkyo.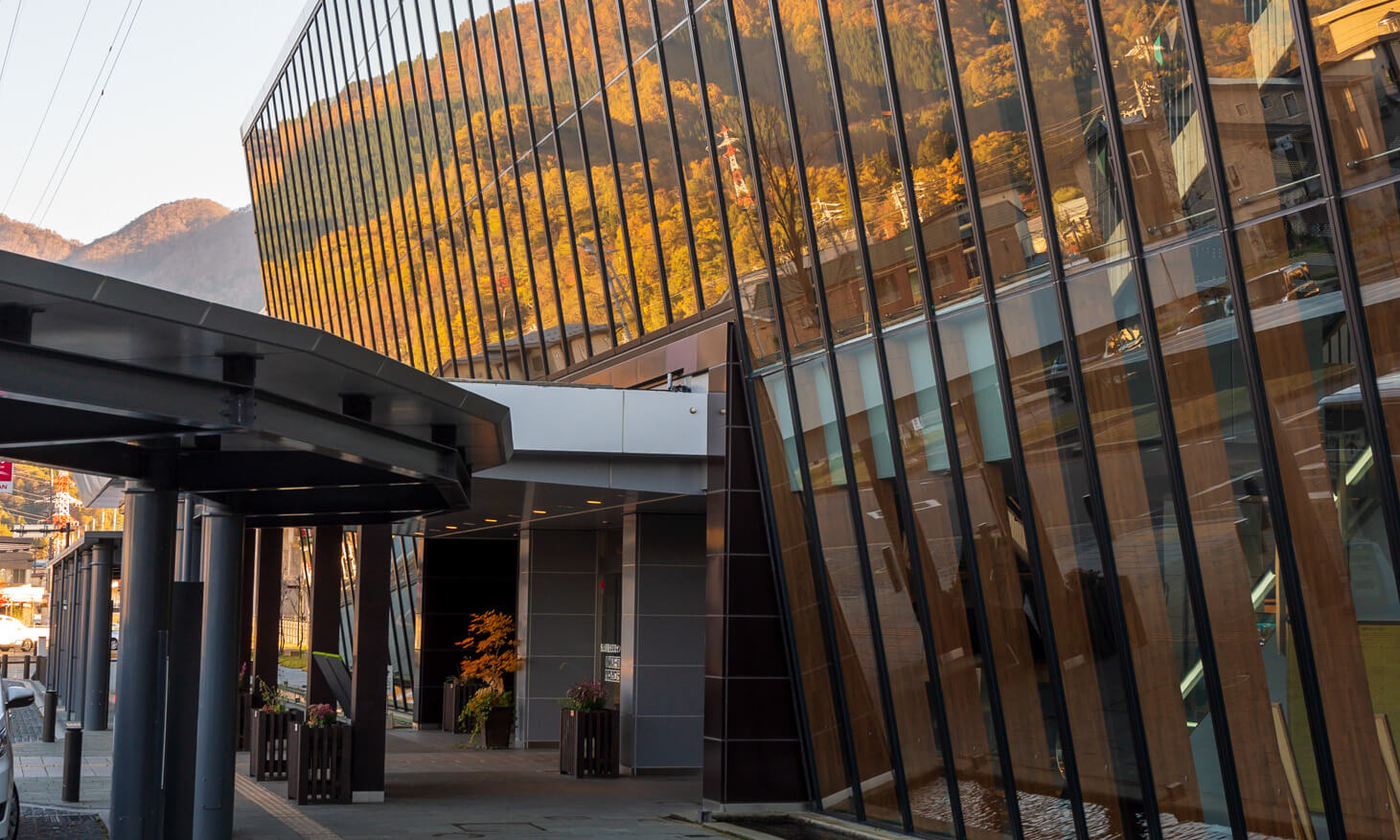 TOURIST
INFORMATION CENTER
Not only do they have sightseeing information about Iiyama City, but they also introduce the wider "Shin-etsu Shizenkyo" tourism area of 9 cities, towns, and villages centered around Iiyama Station.
And using one of the tablet terminals at the counter seats, you can get more information about the surrounding area.

Hours: 8:30 – 18:00
Open 7 days a week
ACTIVITY CENTER
Shin-etsu Shizenkyo Activity Center is an information center offering details on the great outdoors and activities you can enjoy all year round in the Shin-etsu Shizenkyo Area.
Throughout the year they introduce and arrange a variety of tours.

Hours: 8:30 – 18:00
Open 7 days a week
PANORAMA TERRACE
We recommend the casual atmosphere of the shop's interior whether you're leisurely relaxing as you gather information or just waiting for a train.
Everyone is welcome to use the area.
The facility features coffee, tea, light snacks, and an assortment of both Japanese and western sweets from shops in Iiyama City.
You can even eat sweets that are exclusive to Iiyama Station.
You can also enjoy local sake and beer, wine, and other kinds of alcohol.

Hours:
【Apr.-Nov.】
9:30~18:00(L.O17:30)
【Dec.-Mar.】
Weekdays and Saturdays
9:30~18:00(L.O17:30)
Sundays and holidays
9:30~18:30(L.O18:00)
※The seating area can be used as a waiting area outside of café hours
(available from 8:30 to 19:00).
Open 7 days a week