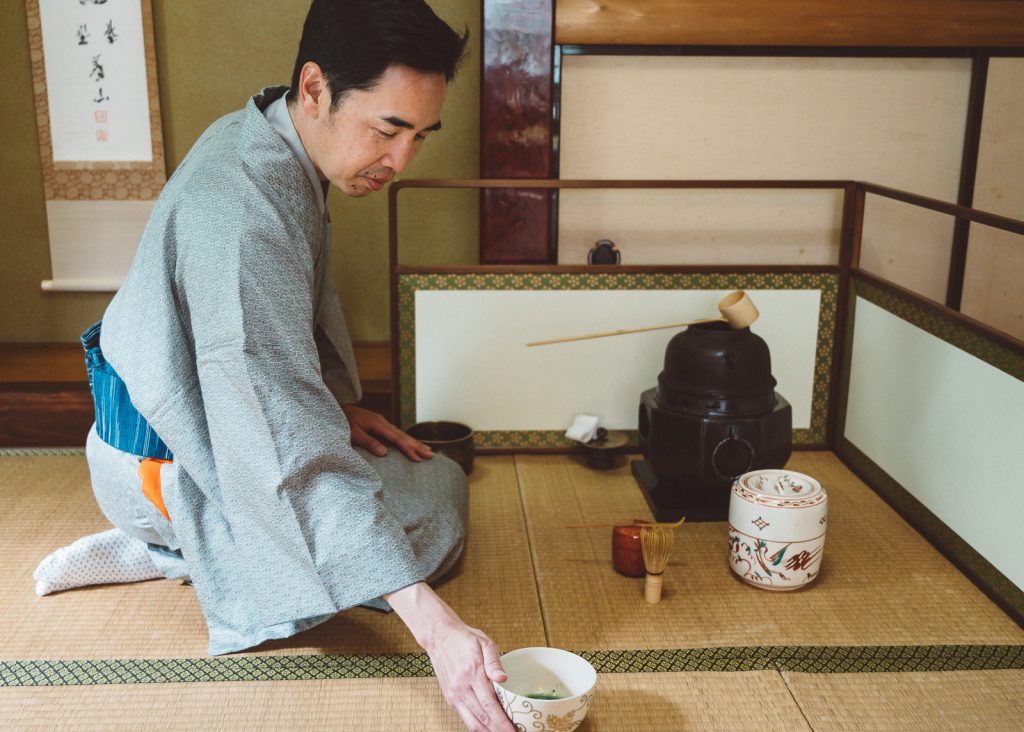 Todd Fong is an American freelance writer living in the greater Tokyo area. He has visited, written about, and photographed Iiyama City many times and considers it one of his favorite escapes from the big city.
---
The 1998 Winter Olympics first brought the world's attention to Nagano as a world-class destination for winter sports. With one of the highest annual snowfalls of any populated region and a geography that creates the perfect conditions for soft powder snow, northern Nagano is a favorite snow sports destination for domestic and international travelers alike.
Within Nagano Prefecture, Hakuba and Nozawa Onsen are the best-known locations for winter sports, still benefiting from their exposure as Olympic event locations many years later. Yet Iiyama City, with its equally excellent ski resorts and other winter sports areas, remains relatively unknown to overseas tourists. The city has maintained a quiet appeal for those who wish to enjoy a trip to the snow without the crowds, a peaceful oasis between its more popular Nagano siblings.
Madarao Ski Resort: Tons of Fresh Powder
Madarao Ski Resort is the largest of Iiyama's resorts, boasting 31 ski runs accessible by 15 lifts. The runs are suitable for all levels of skiers and snowboarders, including children, who have access to beginner and intermediate slopes and classes given by English-fluent instructors. For children who aren't interested in hitting the slopes, a snow play area includes a long, wide sledding run just outside of the hotel.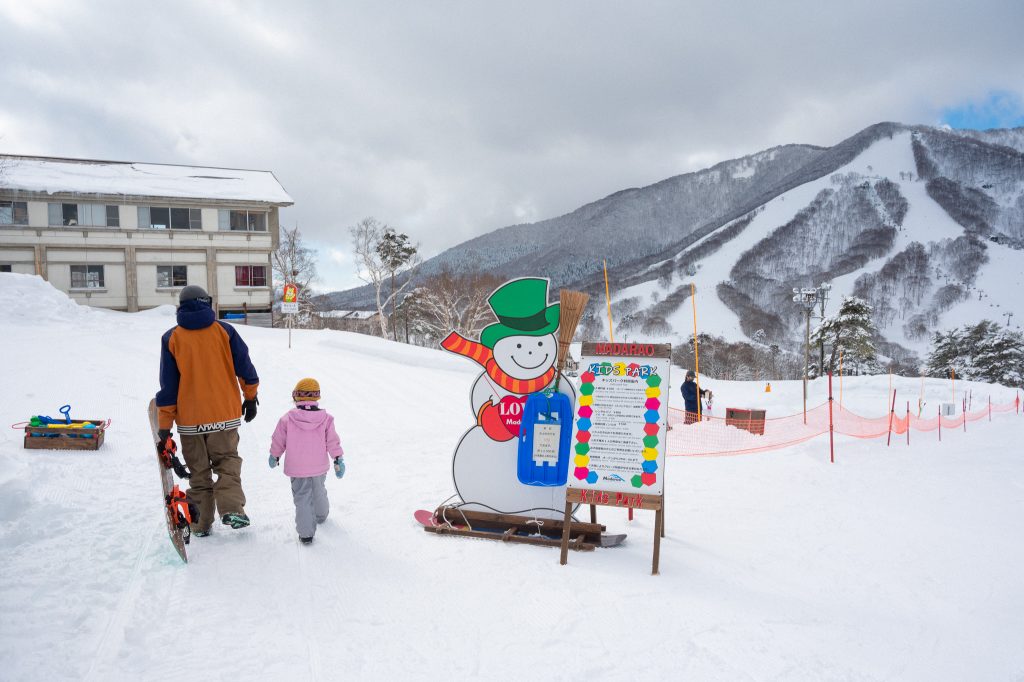 The Madarao Mountain Hotel is a ski-up hotel adjacent to the ski resort. It's convenient for families because the activities for children are close to the hotel, so parents can drop off and pick up their kids on their way to the more challenging runs. Madarao Mountain Hotel features a variety of accommodations, both Japanese and Western-style. A number of rooms have been recently renovated for post-corona travel, more spacious and with higher ceilings, perfect for the latest "workcation" style travel combining vacation time with remote work.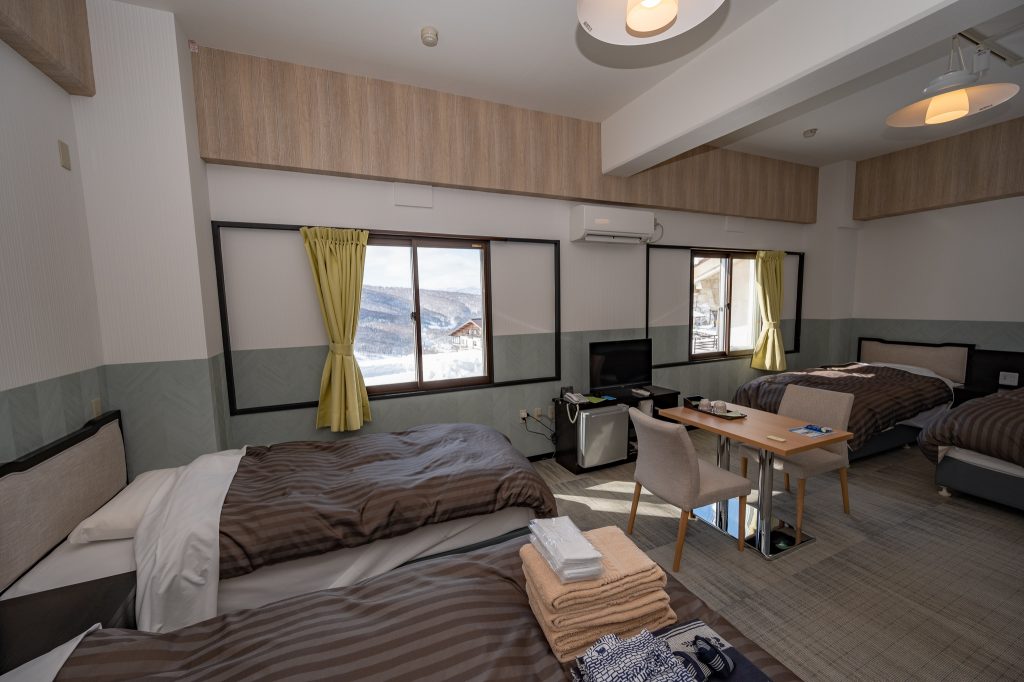 Togari Onsen Ski Resort: Japan's Only Snow Cycling Resort
Togari Onsen Ski Resort may be on the smaller size, but don't let that fool you; the perfect snow conditions still make for great skiing and snowboarding, even with fewer runs to choose from. But there is one thing you can do at this resort that you can't do anywhere else in Japan: downhill snow cycling.
Downhill snow cycling at this resort is not as extreme as some of the videos you may have seen on YouTube, but the exhilaration of plunging down the slopes on a fat-tired mountain bike is still a rush. The tires are over 4 inches wide, making it easy for most beginners to learn within a few minutes, which you can practice on the gentle slope outside of the rental shop. Next, take your bike over to the lift, which are specially fitted to carry bicycles safely to the top of the run. Helpful staff will do all the work of getting your bike on and off the lift, so you don't have to worry about a thing.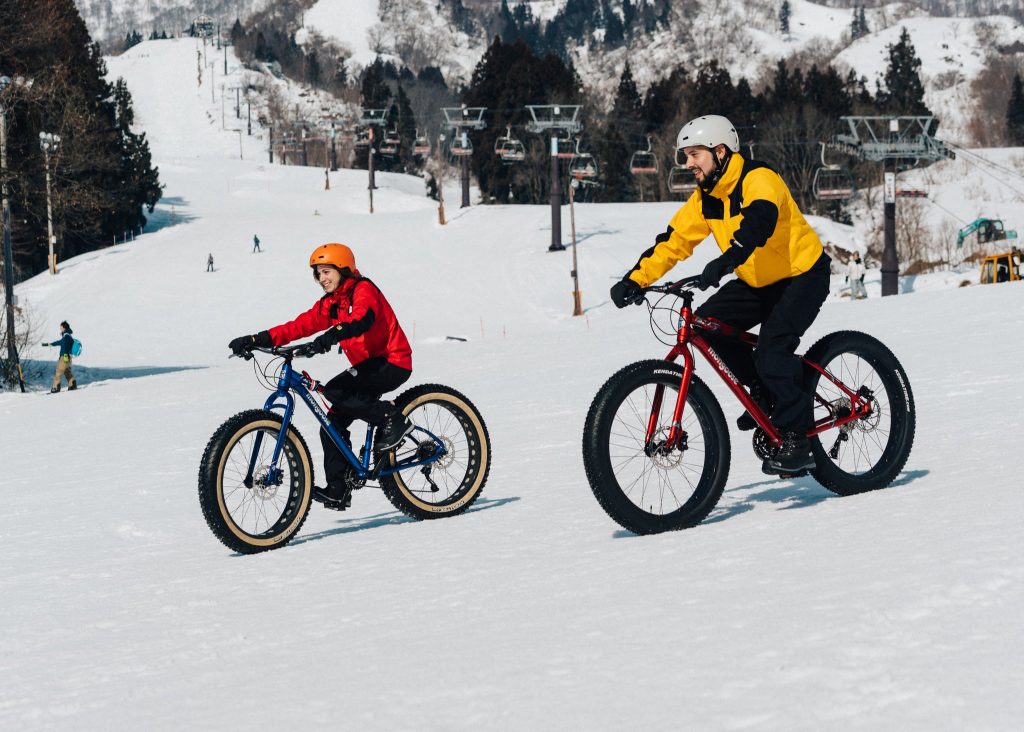 At the top of the run, you'll have three choices: the broad 800 meter long downhill slope, where the only skill required is to point yourself downhill and stay on the bike. There is also a skills course, which has a few moguls and a simple slalom. And finally, a technical course that takes you on a narrow trail through a grove of trees. All three courses are reserved only for cyclists, so there is no concern about dodging wayward skiers or snowboarders on your descent.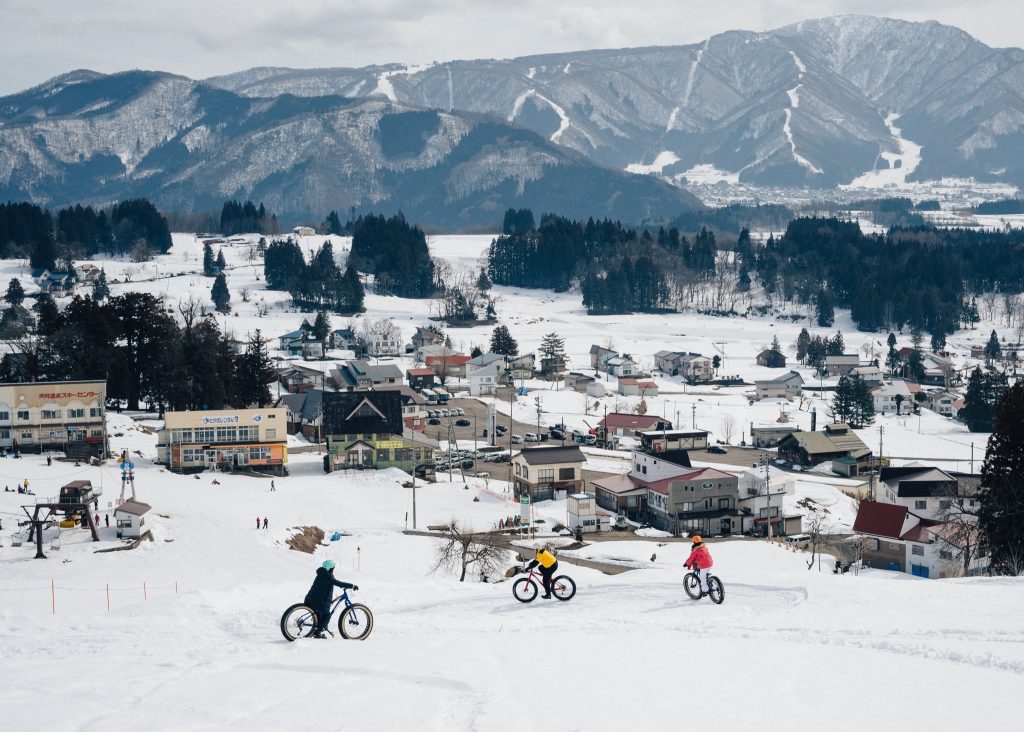 Snowshoeing in the Backcountry of Iiyama
If you'd like to explore the winter wonderland of Iiyama at a more relaxing pace, head to Nagekura Kogen Mori-no-Ie, a collection of rentable cottages nestled in the forest. Mori-no-Ie offers a selection of guided snowshoeing experiences for two or more people through the beautiful forest and along the streams. You can even take a night hike in the snow, with the forest illuminated only by the moonlight and star-filled skies.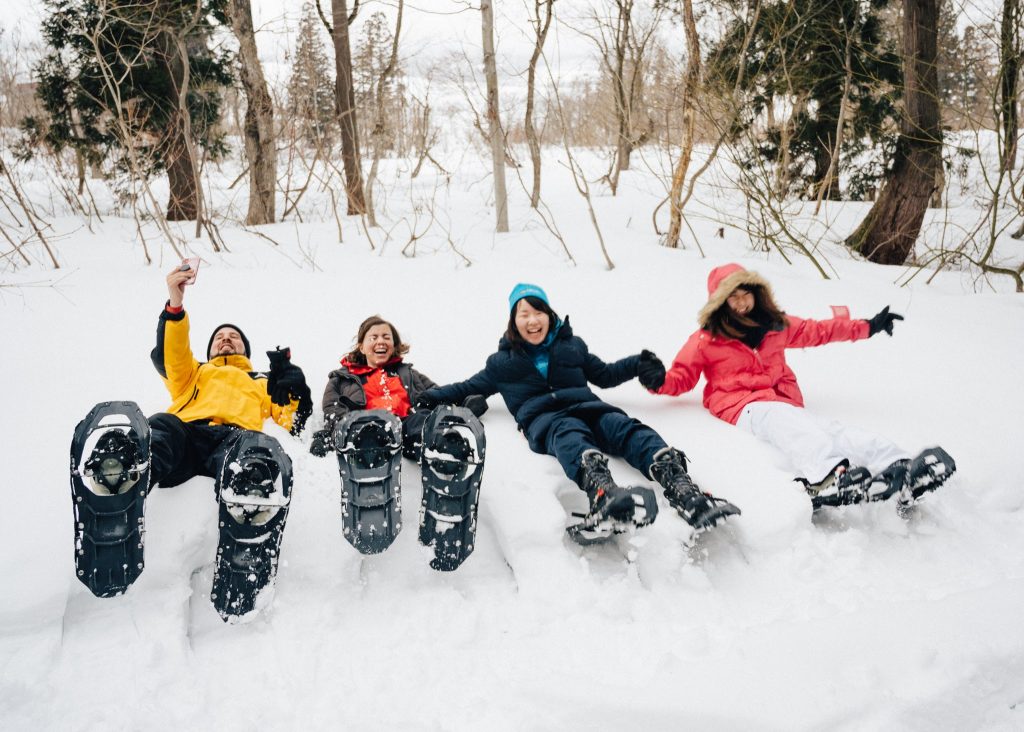 The snowfall in this part of the valley averages 3 meters, and fresh snow falls regularly during the season. Spend a day learning to track small animals or engaging in impromptu snowball fights with the fluffiest snow you can imagine. On our tour, we had a blast just falling into the snow and making snow angels.
Rent an Entire Cabin at Mori-no-Ie
As long as you're at Mori-no-Ie, you might want to rent one of those cottages and spend the night. For those who don't mind (or even enjoy) preparing their own meals, each cottage is equipped with a kitchen and is large enough to accommodate groups of up to 5 to 7 people, depending on the cottage. In an age where safe travel is a priority, this is a perfect place to stay with just the group of people you are traveling with.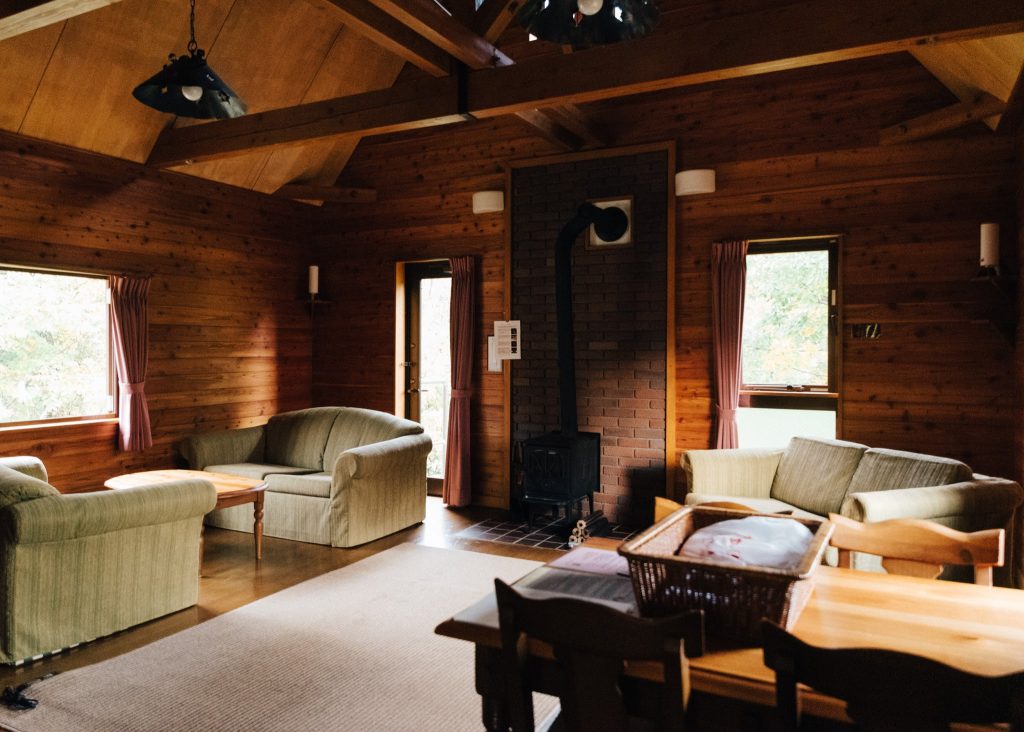 There are both Japanese and Western sleeping arrangements, depending on the cottage, space heaters to keep you warm, and a wood-burning stove if you want an authentic experience. You're guaranteed to have the most peaceful night's sleep ever in the silence of the forest blanketed by the powder snow.
Dine inside an Igloo at Kamakura Village
Perhaps you want to spend the night at Mori-no-Ie, but you don't want to have to prepare your own dinner. During the winter season, you're in luck because just down the highway, you'll find Iiyama's seasonal Kamakura Village, where you can have a hotpot meal in the comfort of your personal igloo.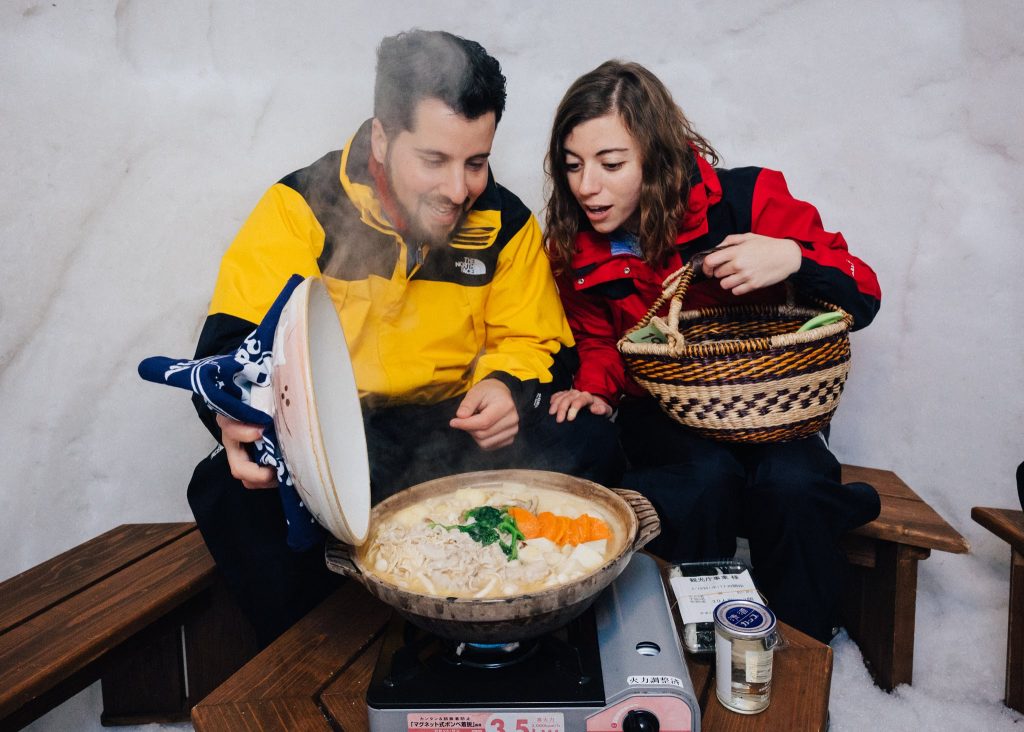 Each winter, a dedicated crew constructs more than 20 igloos from the fresh Iiyama snow. Visitors can dine on a nabe (hotpot) made with local pork and vegetables in a rich pork broth, perfect for keeping warm on a cold winter day. As night falls over the valley, the illuminated pathway and igloos create a surreal sight under the clear starry sky.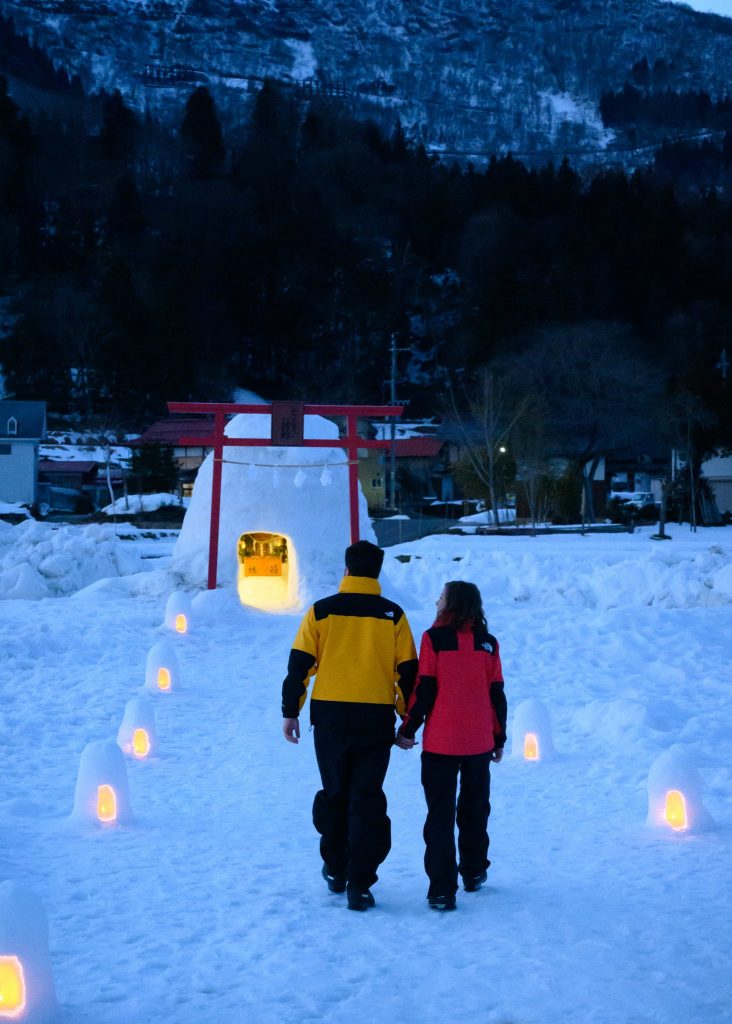 During the day, the area around Kamakura Village is open for snow play. Children of all ages, including those who are children at heart, can enjoy scaling artificially constructed snow mountains, sledding on groomed sled runs, or even riding in an inflatable boat as it is towed by a snowmobile.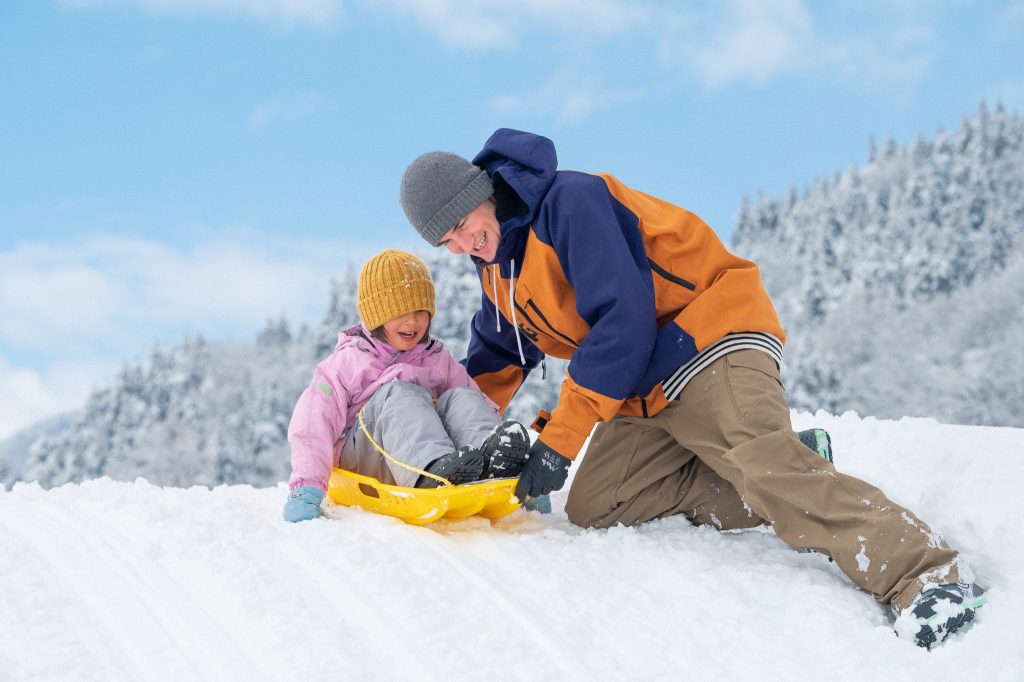 Family-Friendly Accommodations at Madarao Pension Houses
For an affordable alternative style of accommodation, there are a number of "pension houses" around the Madarao Ski Resort area. Pension houses are large homes which function like small inns, with private rooms but shared dining and bath facilities. Most are family-run, which gives them a feel of being an honored guest in someone's home, especially when enjoying a homecooked meal. The accommodations may not be luxurious, but the hospitality and friendliness the owners show their guests more than makes up for it. You might end up leaving Iiyama with memories of new friendships to last a lifetime.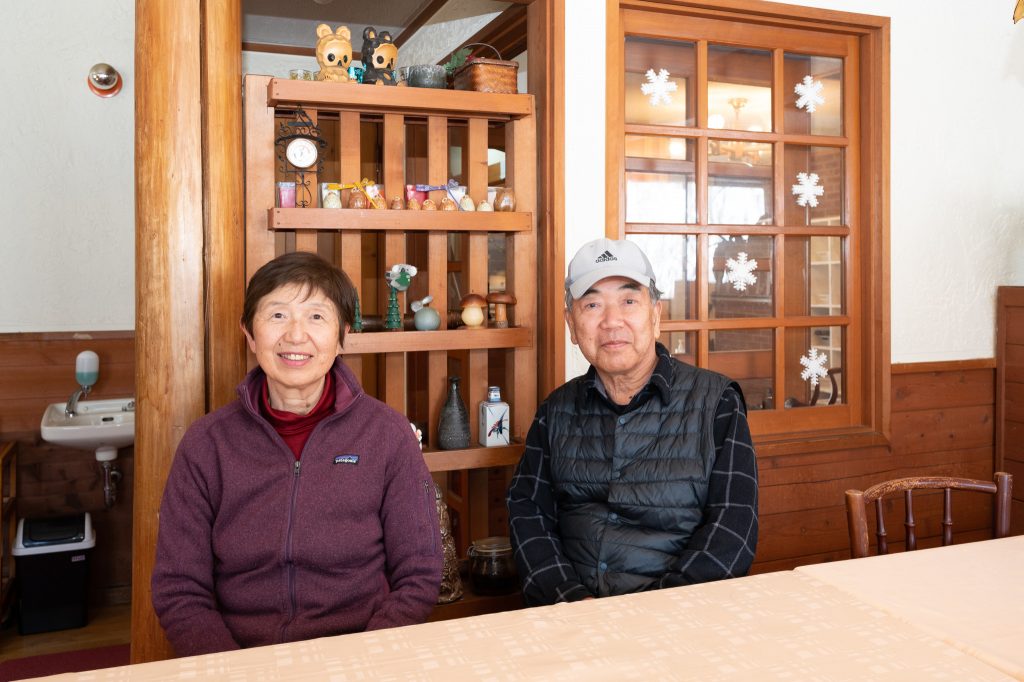 Book A Winter Getaway
Enjoying a getaway to Iiyama couldn't be simpler with the Iiyama Tabi-Tabi plans, from which you can choose from several 1- or 2-night pre-planned itineraries which can include the Kamakura dining experience, snowshoeing at Mori no Ie, or an exciting day of snow cycling. Simply book your plan and take the Shinkansen to Iiyama Station, and the friendly staff will take care of the rest of your trip for you, leaving you free to relax and enjoy a winter holiday.
These are just a few of the reasons why Iiyama City makes such a great destination for a family-friendly winter getaway: family-sized accommodations and winter activities for all ages, perfect powder snow conditions, and conveniently located close to Tokyo on the Hokuriku Shinkansen bullet train.